43 Catchy Save Fuel Slogans & Sayings
World has limited fuel resources and fuel demand is increasing day by day. Consumption of fuel at this pace is alarming and one day this world will run out of fuel. We have to take some measures to decrease the overall fuel consumption so that the available resources can last longer. We need to educate people to use fuel only when most needed and also they should try to use fuel alternatives. 
Save fuel slogans can be used in save fuel awareness campaigns to motivate the public. Our team has gathered a list of 43+ save fuel slogans that can be used in these campaigns. The slogans can be used on banners, posters, t shirts etc.
Here is a list of 43+ Creative & Catchy save fuel slogans and punch lines.
Save fuel for next generations
Stay cool and save fuel
Imagine a day without fuel
Use fuel efficient products to save fuel for future
Saving fuel is the only solution
Let's start saving fuel
I want you to save fuel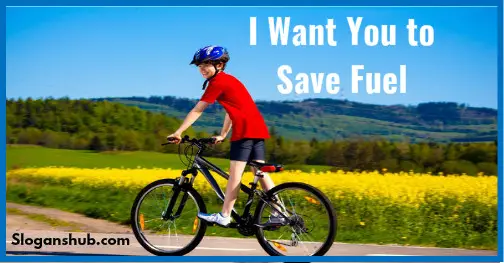 Best habit is the habit of saving fuel
Kick global warming by saving fuel
Save fuel – save money
Save fuel today – Use fuel tomorrow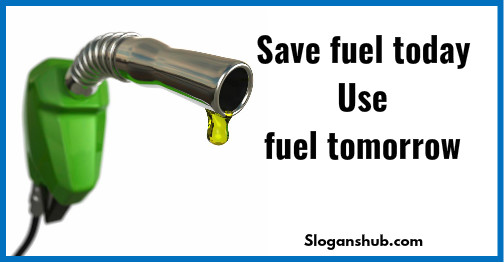 Simply, save fuel
It's all about saving fuel
No choice other than saving fuel
Be wise – Be a fuel saver
Cool people save fuel
Fuel conservation is the only solution
Decrease the Need
Don't be Fuelish!
Save fuel today, secure your tomorrow
Get the most out of every drop
It's your future, look after it
Save Oil, Save Energy, Save Money, Save the Planet
Turn off the car, I ain't that far!
We're at war for it
One day oil will be costlier than gold; so start conserving today!!!
Yay, conserving fuel energy!
Be cool , save fuel
A unit saved is more than the unit generated
Save fuel to rule
Don't use fuel, use Muel
Slogans can't save fuel but you can
Don't be cruel, conserve your fuel!
If it ain't far, don't take the car
Every drop matters
Keep calm & save fuel
Love your wife & save fuel
Save fuel to save money
Fuel pinching please
Conserve Energy, Use less fuel, Jogg to work
Put on your walking shoes!
Tune-ups save fuel
Properly inflated tires save fuel
Keep calm & save fuel for future
Get the most out of every drop
Walk to school, it's super cool
Burn fat, save fuel
Burn calories, not fuel
Save fuel & Ride bike
Today's wastage is tomorrow's shortage
We all have to save fuel
A future without fuel would be unbearable
Be a fuel saver!
Save fuel and tell others to do so
Save fuel, secure the future!