30 Save Water Save Life Slogans
In this post, we are going to share Save Water Save Life slogans to let the people know about the importance of water.
These slogans can be used to educate people that life without water is impossible and we must do our best to stop wasting it.
Feel free to use these slogans where ever you want. Also share them with your friends.
Save Water Save Life Slogans
Life is impossible without water
Save water! Save life!
Today's rain water is tomorrow's life saver!
Water is life! Save water, save life!!
Water is life, treat it right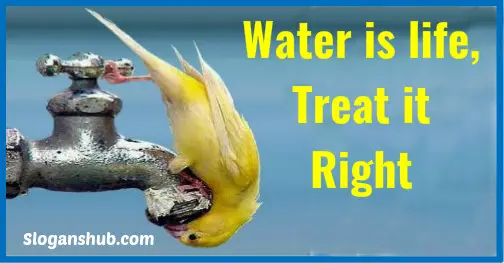 Don't let the water run in the sink, our life's on the brink!.
Do your children a favor and save tomorrow's life saver. Water!
We forget the water cycle and It will ignore our life cycle
Don't Waste Water to the Rest of Life
Read Also: A complete list of Save Water Slogans & Phrases
Life Depends on Water and Water Conservation Depends on You.
No water, no life
When you conserve water, you conserve life!
Save water and save the life on the earth
Conserve Water! As no Water no Life.
Stop a Drip of Drop, it can Save a Life.
Saving the Stuff of Life
Conserve water and conserve life!!!!
Save Water through Water Conservation, as Water is Life and Conservation is Future.
Save your life by saving what lets you live, Save Water
Conserve water, our life's on the brink!
Water is Worth for the Life on the Earth
If Water is Life, then why we are wasting it!
Water is not the source of life, it is life
WATER, the DNA of life
Every drop of water matters
We are water
You can't live without water
Water is precious, save it
There is a thin line between using water and wasting water
Water is more precious than Gold