40 Catchy Noise Pollution Slogans
Below are the 40 Catchy slogans on noise pollution. Share them with your friends.
Keep the noise down or the noise will keep you down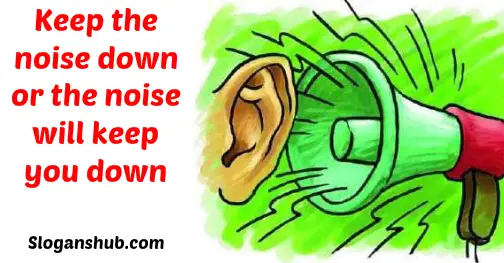 Make some noise and you will just be one of those
Reduce noise and use your sixth sense to differentiate between human beings and animals
We have air pollution, water pollution, and soil pollution everywhere. Why make another?
Save your ears for your future generation will need to enjoy the benefits of fine music
Help stop ear pollution
Give me your ears! Not your noises! Coz i need ears to hear sweet voices!
Let our ears live long!
Leave our ears unbroken!
Everything you hear is what you are
A power that you can only have, Protect your ears from loud noises
Honk if you love noise pollution
Honk if your noisy!
Noise affects more people than any other pollutant
The more you make NOISE. The faster you lose your VOICE
Your HONKERS make me go BONKERS
Ever drive never noise
Turn it down, your ears will thank you!!
1, 2, 3, 4, turn it down, I don't want to hear that anymore
Noise pollution is not the answer!
Girls and Boys stop needless noise
Noise can fill your ears, and put you in tears
For real man, turn it down….!!!
Silence speaks volumes
There is No Peace without Quiet
I'd rather hear the wind than the work
Honk if you're noisy!
This noise will turn earth into slice
Can you hear me now?
Read more: Slogans on Environment
Silence is golden
Don't be a clown, keep the noise down
Keep the noise down or you'll make me frown
Sometimes you say more by not saying anything at all
Air and water pollution spoils the health – Noise too!
Let your performance be seen and felt than your sound
Silence means the absence of noise pollution
More the sound, less the receptivity
Less sound, more sense
Listen to God's voice in silence
Save Our Ears
Stop Noise pollution because it's not good
Be quiet. You'll keep your spirits up and the noise down
Noise Pollution- If You Don't Kill It , It Will Kill You
Undue noise means undue load on your senses
Make No Noise Pollution Your New Year Resolution
There is an increasing sense of what can be called legal pollution
Respect someone's sleep
Be sound, do not pollute
Keep calm & save your ears